Fujitsu Have Market Leading Document Imaging Capabilities With Faster Scanning Speeds
Fujitsu is well known Japan-based ICT Company. Fujitsu is an established leader in the document imaging market, featuring state-of-the-art scanning solutions in the departmental, work group and production-level scanner categories. Fujitsu scanners deliver best image quality, speed, and great paper handling, along with easy integration and compatibility with document imaging applications with great support.
Fujitsu has the widest range of Document Imaging Products starting from 10 pages per minute Single side up to 270 Pages per minute.
Fujitsu is the only documents imaging Devices Company who has contactless imaging and object scanning devices. Fujitsu is the only one in the who has stand scanner.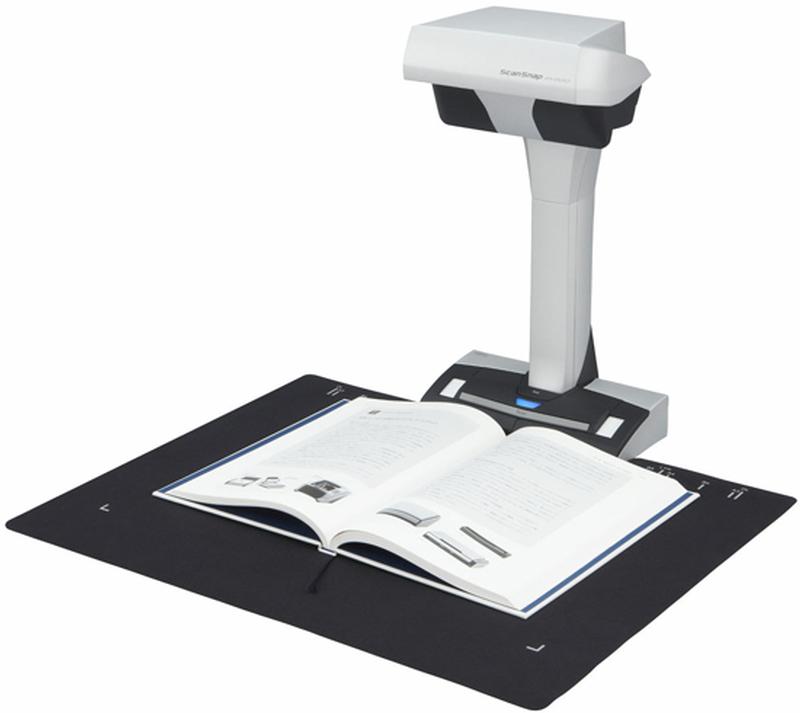 FUJITSU Image Scanner ScanSnap SV600
The ScanSnap SV600 Contactless image scanner provides a new perspective on document scanning. Easily scan newspapers, magazines, documents or books directly without cutting or damaging them
One-button overhead scanning technology

Scans bound material and flat documents

Scans an A3 size area in less than 3 seconds

CCD optic with fast LED illumination

Book curve image-flattening technology

Erase finger from image function

Auto crop, de-skew and rotation features

Auto page-turn detection sensor

Timed interval scanning mode

Searchable PDF, PDF and JPEG creation

Single scan multiple document cropping function
ScanSnap SV600 includes file management software ScanSnap Organizer
ScanSnap SV600 offers a unique and intuitive way to scan your books, magazines, and newspapers to your e-reading devices. It comes bundled with file management software ScanSnap Organizer with which you can easily generate, virtually organize and read your own scanned material.
Step 1  Scan with one touch!
With a host of impressive features, you can continuously scan multiple pages smoothly.
Page Turning Detection: Automatically detect when the page is turned.
Timed Mode: You can set the time to start scanning after the "Scan" button is pressed. For continuous scanning, you can set the time interval before
the next scan begins.
Step 2 Auto image correction: enhances the reading experience
Book Image Correction – automatically corrects distortion caused by the curve of an opened book or magazine. You can confirm and fine-tune the scanned images on the preview dialogue after scanning or have this be performed automatically
Step 3 Go paperless with digital filing
Collect your documents into digital files, insert additional pages at a later point in time and organize them in a structured way.
Step 4 Organising and viewing on the go
Carry your scanned documents with you anywhere and anytime, you can conveniently browse your scanned digitized material from your tablet or smartphone. ScanSnap Organizer allows you to synchronize documents across personal devices like Windows and Mac, and iOS and Android tablets using cloud spaces like Dropbox.
FUJITSU Document Scanner fi-7160
Provides unmatched performance and market-leading document imaging capabilities with faster scanning speeds
Fast, 60ppm / 120ipm scanning in color, grayscale and monochrome

80-page Automatic Document Feeder (ADF)

Advanced paper handling technology for the ultimate in feeding reliability

Eco-Friendly LED Scanning

Interactive, Multi-Line LCD Panel

Scanner Central Admin Suite

Embossed card scanning (1.4 mm thickness)

Acoustic and Timing Paper Protection functionality

Automatic Image Cleanup with PaperStream IP Drivers (TWAIN/ISIS)
Features are
PaperStream Capture Pro
A high-quality, front-end scanning software, PaperStream Capture Pro enhances Fujitsu fi Series' superior scanning abilities with an improved feature set that includes options for high-level data extraction and indexing, the import of electronic images, and support for multi-station licensing. PaperStream Capture Pro offers cost-effective improvement tools such as PaperStream IP for optimized image capture. As a distributed capture model, this scanner software captures your data without added costs and resources. This solution benefits organizations and departments that require an efficient yet easy way to convert paper documents into a digital file for high-level data indexing and extraction. Improve records management processes and drive down business expenses with PaperStream Capture Pro.
Centralized Efficiency
Whether the infrastructure is fixed or expanding, managing technology efficiently inside the organization is key to reducing total cost of ownership and the Fujitsu scanner provides system administrators with advanced software tools to centrally manage the scanner more productively and cost-effectively.
Agent, console and server remote scanner management
Real-time Fujitsu scanner inventory
Status and alert monitoring
Centralized driver update deployment
Consumable management